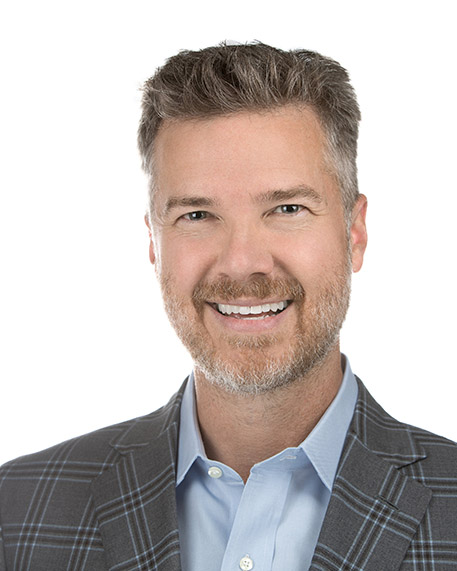 Dan Bednarczyk, D.D.S.
Dentist / Owner
Dr. Dan Bednarczyk grew up in numerous states and even abroad his first 11 years, but his hometown is definitely Kansas City. He and his wife have a 17-year-old son and 15-year-old daughter. Dan and their son love to fly and do so out of the Downtown Airport. Their daughter is on her high-school dance team and loves ballet too. When they make the time to slow down, the Bednarczyk's love travelling. Discovering new places is always at the top of the list, but they make regular trips to Colorado and Montana for camping, fishing, and their favorite pastime, skiing. Throughout the season, "Family Golf" is also a constant for them but takes a back seat to trips to the Ozarks and Grand Lake.
Before his family days, Dr. Dan studied at the University of Kansas for his undergraduate degree in genetics and then remained in Lawrence for graduate school in molecular biology. That degree pursuit was cut short when he was led to dentistry by numerous mentors who were all in the field. After attending the University of Missouri-Kansas City School of Dentistry and being distinguished with the AAOMS Implantology award for his class, he became a general practice resident at the University of Iowa-Hospitals & Clinics in Iowa City. That program furthered his cosmetic and restorative skills and allowed him to obtain advanced clinical training in oral surgery and intravenous sedation. After his residency, Dr. Dan and his wife moved to Denver, where he was an associate in a large group practice for 3½ years.
Soon after the birth of their son, the Bednarczyk's returned to Kansas City to be closer to loved ones -- and free family babysitting! Dr. Dan initially was a co-owner of a practice on the Plaza, but he always recognized that he wanted to start his own practice in a suburban neighborhood with a great community feel. With a young family of his own, Dr. Dan searched the Kansas City area for the perfect location to start his own practice, with a vision of being able to get to know and watch families grow through the years. An opportunity presented itself in 2006 to lease space in the College Park Family Care building, which at the time was the original building in the Shops of Sunnybrook. He immediately knew that it was the perfect place to start a new practice. Dr. Dan loved the Olathe Northwest and Cedar Creek areas, surrounded by wonderful developing neighborhoods and schools. Keeping in mind his own busy family, he appreciated how much a great location that catered to all ages would make life a little easier for families to get to their appointments.